About Us
MH Overseas is active as manufacturer and exporter of a wide array of products like Brass Round Bars, SS Long Radius Pipe Elbow, Stainless Steel Seamless Pipes, SS Pipes, Copper Pipes, Stainless Steel Weld Neck Flanges, Copper Seamless Pipes, etc. The robust construction, durability and precise design of our products have enabled us to impress customers and develop a long-lasting bond with them. All those who have joined hands with us to make their purchase have rated us quite high. They are so satisfied that they are even promoting our company by the word of mouth.
Owing to advanced machines, we are capable of meeting bulk orders with ease. No matter how tight the deadlines are or how big is the demand, we timely meet the same with the assistance of our resources. We are a entity of words that never fails in fulfilling the promises made to customers, therefore, all the buyers trust us completely.
We have excellent supply chain management that enables us to deliver the products at the desired location of esteemed customers. Further for shipment, we have joined hands with the best logistics companies that are major players in their domain.
Try having deals with us once, and we guarantee that you will be impressed and just like all our customers will become loyal to us.

ISO Certified Entity
We, MH Overseas, have attained ISO 9001:2015 certification by consistently maintaining strict quality standards in our offerings. This certification also plays a major role in attracting new customers to our firm. Our commitment to excellence and hard work are the two main reasons because of which we have attained the mentioned certification.

Major Attributes
The following are the main attributes of our company that have enabled us to stand out in the crowd:

The unmatched quality of our products and their fair rates
Our customer-focused policies and transparent manner to running the venture
Our robust infrastructural facilities that help us manufacture worth buying products such as Copper Seamless Pipes, Stainless Steel Weld Neck Flanges, SS Long Radius Pipe Elbow, Brass Round Bars, etc.
Our meeting deadlines and offering safe delivery of consignments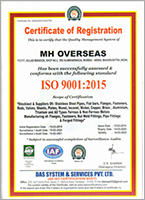 Read More